Our second (somewhat longer) shakedown trip was traveling from the SF Bay Area to Lincoln City Oregon. We planned to go up I-5 over 2 days and then return after the weekend (over 2 days again) down the Oregon/California coast on 101.
I'll get this out of the way real quick. Jimmy and I love Oregon. Washington too. As long as we live on the West Coast, you'll probably be reading a lot about our travels in these states.
We brought coffee and pillows this time…but somehow forgot the coffee filters. Jimmy performed a special Boy Scout trick and made coffee anyway. Paper towels apparently work as coffee filters in a pinch. We were able to pick up some actual coffee filters in Lincoln City.
The drive up was nice – dinner was in a small German hill town named Dunsmuir, California. We found a small brewery on the main drag (Dunsmuir Brewery Works) where we had German fare and delicious beer while the sun set. The town was a bit smoky but was lovely nonetheless. The locals we ran into were very kind and seem to love their little town.
We stopped at one of our favorite KOA Campgrounds, Grant's Pass, to sleep. It's a Journey KOA so it's closer to the highway and really more for through travelers. We've been there a couple of times and I can't recommend it more! It's quiet, has a couple of lovely hiking trails and swimming holes, and I don't think I've seen one spot in the place that's hard to get in or out of. There are some hills and beautiful tree cover since you are nestled in the hills surrounded by three National Forests. Grant's Pass is North of Klamath National Forest, East of Rogue-River Siskiyou National Forest and slightly South-West of Umpqua National Forest – which is home to the beautiful Crater Lake National Park. When we were passing through, some fires had closed many of these national lands so we would not have been able to explore them even if we had the time. Crater Lake is absolutely on my bucket list though.
Lincoln City is quite lovely. It's a beach town on the central coast of Oregon easily accessible from Eugene, Salem or Portland. There are many places to stay whether you're into glamping, camping, resorts, B&Bs or rentals. The area is known for its seafood, kite festival, glassblowing and natural landmarks. Obviously, we were there for the beach. We stayed in a rented house walking distance from the sand and waves. It was cloudy and misty most of the time we were there and I don't think it ever got warmer than 70 degrees. This was Scout's first trip to a beach, and boy, he loved it. He took one look at the sand and assumed it was endless amounts of kibble. Eating sand didn't sit well with his stomach though so I think he decided fetch and general exploration were more desirable.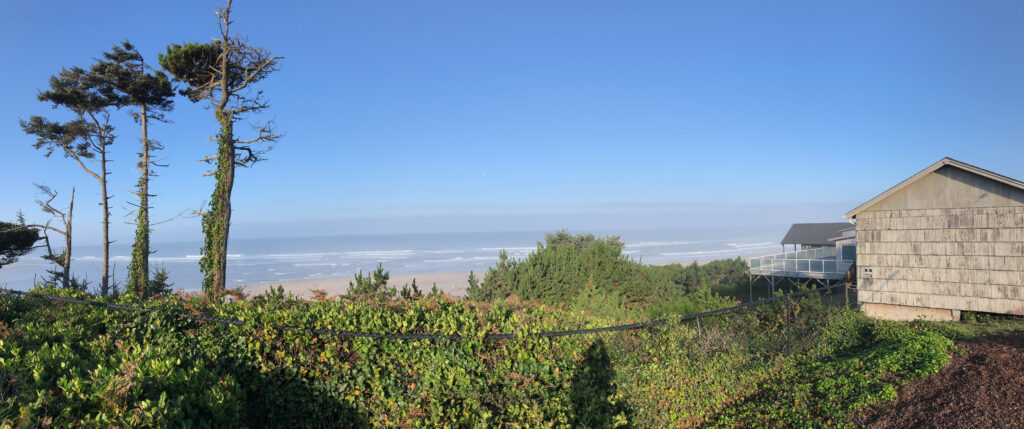 We could have spent hours hiking and exploring the lighthouses and places of interest. We decided to remain homebodies during this trip. The goal was to to avoid getting sick while enjoying time away from our actual home. We did spend one day traveling a bit South to Cape Perpetua to see the Devil's Punchbowl and Spouting Horn. We saw it during the highest tide – the sea was truly restless and the salt spray in the air was palpable. It was very windy and very cold. Jimmy needed a warmer jacket. Some (not so clever) tourists hiked down to try to get a closer look at the Punchbowl and surrounding tide pools, but were constantly getting splashed by very large, very cold waves. I was not surprised to hear of how many accidents regularly happen in this area. Our last day fell on the Fall Kite Festival, but Covid-19 put a bit of a damper on the crowds. There weren't more than 5 or 6 kites on the beach in total.
The drive home was breathtaking. If you're a fan of coastal views, the 101 Oregon-California coast drive is a must-do! Some might think the curves a bit scary, but personally, I've been on worse mountain roads. The first leg was a sunset drive down the coast to the Crescent City/Redwoods KOA. We were able to have a small campfire and watch some football while eating some burritos from a local Mexican restaurant.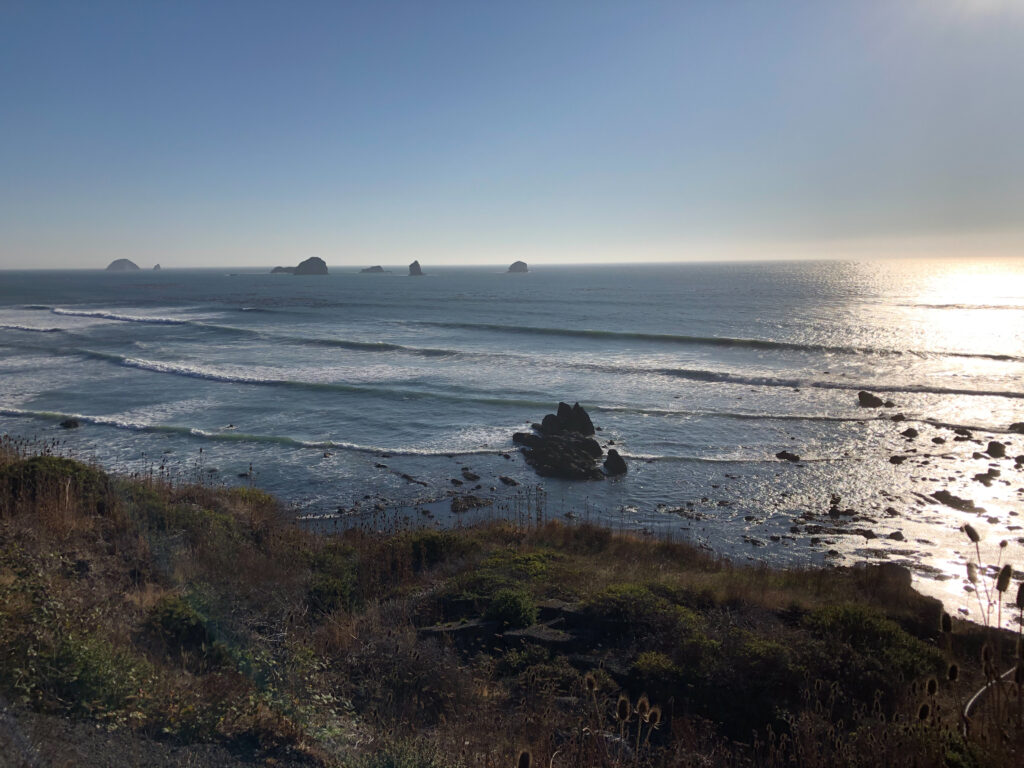 The last leg of our journey was a bit more hills and mountains with a decent amount of smoke from the August Fire Complex in Northern California. It was still incredibly beautiful and we did snap a few photos. We found an RV dump at a gas station just a bit North of home and emptied the black/grey combined tank. The Campendium app was extremely helpful in finding this at an accessible location. We found many cheap or free RV dump sites are only accessible during working hours (5 PM is when many close).
I'll leave you with some parting advice: check that the dump hose is connected to the black tank outlet properly before you open the dump valve. I thought mine was connected and ended up with some nasty I had to hose off the trailer, ground, and my hands. Re-closing the valve doesn't stop it quickly enough to avoid a mess.
Because there's nothing more beautiful than the way the ocean refuses to stop kissing the shoreline, no matter how many times it's sent away.

Sarah Kay